It's not just for boys : The women raising the bar to give beer chic appeal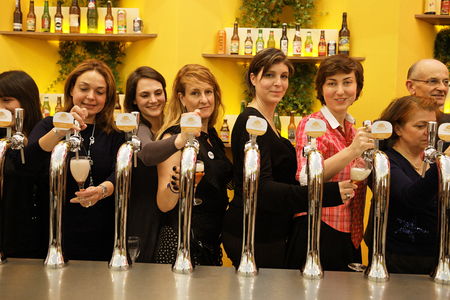 Adam Sage March 10 2011 12:01AM
The revelation came to Stanislassia Klein in a pub in Wiltshire: sipping a glass of ale, she realised the extent of female emancipation in Britain — and the oppressiveness prevailing in her native France. As soon as she returned home, the chic Parisian fashion designer initiated a campaign for French women to obtain a right taken for granted in Britain: that of enjoying a beer without being derided as a social outcast. Three years later her Club for Women Beer Drinkers in High Heels has more than 2,000 online followers and a media profile that is starting to change the entrenched Gallic belief that real women do not drink la bière.
The launch of the club's first regional branch last week drew television cameramen eager to record the astonishing sight of women unashamedly downing their lagers and ales.
"The club has really struck a chord," Mrs Klein said. "There are lots of girls out there who like beer but say they can't drink it because they get strange looks."
Her campaign goes to the heart of the traditional view of womanhood, which holds that they must be slim, elegant and sophisticated. They can order champagne without fear of disgrace, but beer is seen as a masculine beverage served in dingy bistrots where women are unwelcome. "The whole beer-drinking environment is male-dominated in France," Mrs Klein said. "It's associated with football and men digging up roads and burping." Mrs Klein, who is known in Parisian circles for strikingly original garments and an eye-catching line of lingerie, said that she liked nothing better than a Guinness. "My husband, who looks like a rugby player, drinks tea. But whenever we go out together, people give him the beer and me the tea. It's very irritating."
The campaign has won enthusiastic backing from French breweries — although not necessarily because they want to encourage sex equality. Their concern is to boost beer consumption, which has fallen in France from an average of 44.2 litres per person per year in 1980 to 30.7 litres in 2009.
Females in Britain
· An estimated 13 per cent of the 10.7 billion pints of beer drunk in Britain in 2008 was consumed by women
· Research last year found that 37 per cent of women alcohol drinkers had tried real ale, compared with only 16 per cent in 2008
· National FemAle Day was celebrated as part of Cask Ale week last year
Source : Times research